TimeOne Cookie Policy - LMT, Subsidiary of La Poste Group
Last updated on 27/10/2022
I. What is the scope of application?
This policy applies to cookies and other tracers deposited and/or read during the consultation of the Express-Flowers.co.uk site (hereinafter referred to as the "Site"). This scope includes all services related to the domain name https://www.express-flowers.co.uk/
II. What is a cookie or a tracer?
The term "cookie" is to be understood in the broadest sense and covers all traces deposited and/or read, for example, when consulting a website or a mobile application or when activating or prior to the activation of a chatbot.
For convenience, we use the term "cookie" which covers all technologies that read or write data to the user's terminal.
A cookie or a tracer is deposited by your Internet browser (e.g. Internet Explorer, Firefox, Safari or Google Chrome...) on a dedicated space on the hard disk of your terminal, by the server of the site or mobile application that you visit or consult.
III. Who deposits and uses cookies on the site?
Cookies are deposited and used by TimeOne LMT or its technical service providers on the Site for its own needs, TimeOne LMT is therefore responsible for processing them.
Other cookies are issued and used by our partners or third party companies for purposes that these third parties determine, the latter are responsible for processing them. TimeOne LMT will be considered to be jointly responsible for processing as soon as it authorises the deposit of these third-party cookies on its Website and solely for this purpose (example: cookie enabling content to be shared on social networks).
However, TimeOne LMT cannot be responsible for subsequent processing carried out by the third party partner, involving the processing of personal data, for which the said third party remains responsible for processing. To find out how these cookies are used and/or to exercise your right to object to them, we invite you to consult the privacy rules and conditions of use of these third parties.
IV. What categories of cookies are used on the website and why does TimeOne LMT use these cookies?
Some cookies are essential for the use of the Site. Others, if they are not indispensable, allow an optimised use of the Website, in particular by personalising the display of content.
Cookies necessary for the operation of the Site:
These cookies enable audience measurement. Necessary cookies help to make the Site usable by activating basic functions. The site cannot function properly without these cookies. They are strictly necessary for its operation and cannot be deactivated at the risk of no longer being able to access the Site or certain services on the Site.
Technical cookies and cookies necessary for the operation of the Site: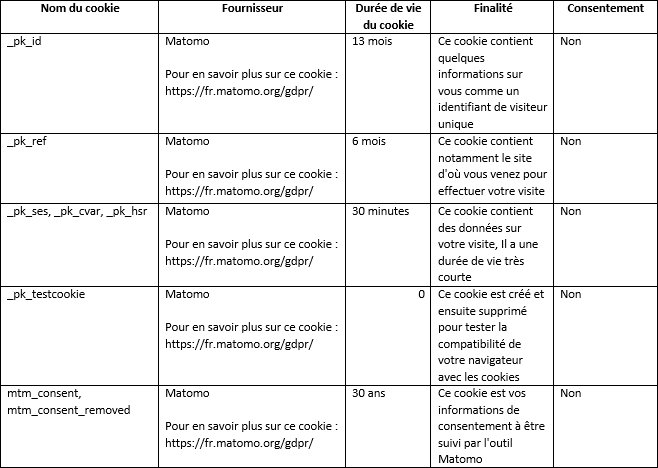 V. How long does the user's choice last?
Your acceptance or refusal of cookies is, whatever the type of cookie concerned, kept for a period of six (6) months.
Your consent will be requested again at the end of this six (6) month period by the display of the information banner.
VI. How can you limit the deposit and reading of cookies by configuring your browser?
You can configure your browser so that cookies are saved or rejected in your terminal, either systematically or according to their sender.
We draw your attention to the fact that setting your browser does not exempt you from making your choice regarding the deposit and reading of cookies on the Site.
The settings of your browser may also have negative effects on your navigation. If you refuse the recording of technical cookies in your terminal, or if you delete those recorded there, you will no longer be able to benefit from a certain number of functionalities which are nevertheless necessary to navigate in certain areas of the Site.
Where applicable, we decline all responsibility for the consequences linked to the degraded functioning of the Site resulting from the impossibility for us to record or consult the cookies necessary for their functioning and which you would have refused or deleted.
It should be noted that the configuration of each browser is different. You can access its description in the help menu of your browser, in order to know how to modify your choices.
Here are the links to the help menus of 4 main browsers and the procedure to follow:
* EDGE
Click on the three dots "..." at the top right of the browser window
Select "settings" from the drop-down menu.
In the options window, click on the "Cookies and Site Permissions" tab
To disable cookies, uncheck the "Allow sites to save and read cookie data" button
For more information:
https://support.microsoft.com/fr-fr/microsoft-edge/supprimer-les-cookies-dans-microsoft-edge-63947406-40ac-c3b8-57b9-2a946a29ae09
* SAFARI
Go to "Settings", then "Safari".
Select "Delete cookies and data".
For more information:
https://support.apple.com/fr-fr/safari
* CHROME
Click on the Chrome menu in the browser toolbar
Select the "Settings" option
Click on "Show advanced settings".
In the 'Privacy' section, click on the 'Content Settings, Cookie and Site Data' button. You then have the option of deleting them all or selecting them one by one.
For more information:
http://support.google.com/chrome/bin/answer.py?hl=fr&hlrm=en&answer=95647
* OPERA
Go to "Preferences".
Select "Advanced".
Select "Cookies".
For more information:
http://help.opera.com/Windows/10.20/fr/cookies.html
VII. What are your rights regarding your personal data and how can you exercise them?
Within the framework of the use of cookies and other tracers, TimeOne LMT is likely to process personal data concerning you, as the person responsible for the processing. The data collected is essential to achieve the objectives pursued by each cookie deposited on the Site.
In accordance with the applicable regulations, you have the right to accept or refuse the use of cookies on your terminal (with the exception of the cookies necessary for the functioning of the site, cf. article IV of the present policy).
In addition, you have the right to withdraw your consent to the use of one or more categories of cookies by TimeOne LMT at any time. To do this, click on the yellow icon at the bottom left of your screen.
You have the right to access, limit, delete, rectify and/or remove your personal data by sending your request to the following e-mail address: dpo@timeonegroup.com or to the following postal address TimeOne - RGPD Legal Department, 114 Rue Victor Hugo, 92300 Levallois-Perret.
Within the framework of its personal data protection policy, TimeOne LMT has appointed a data protection delegate: Madame la Déléguée à la Protection des Données La Poste, CP C703, 9 rue du Colonel Pierre Avia 75015 PARIS.
In case of difficulty in the management of your personal data, you can lodge a complaint with the CNIL.